List Of Best Bitcoin Forex And CFD Trading Services
Contracts for Differences aka CFD was developed to allow traders to trade stock, forex, index or commodity position without having to physically own the underlying instrument itself. Nothing is being purchased, you are only betting the broker (casino) that the price will go up or down.  It works like that if your deposit gets below a threshold they auto-liquidate your position.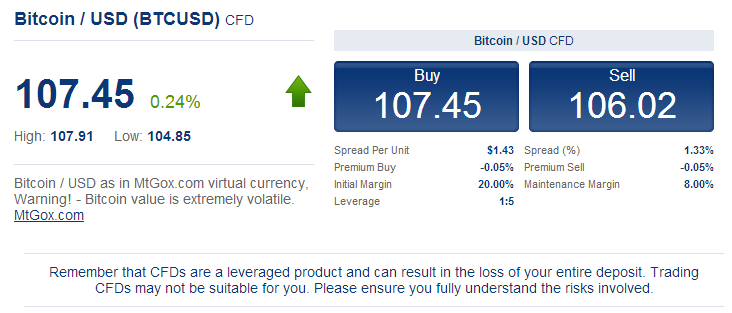 Why Bitcoin CFD? Well most of FX trading companies accept accept credit card deposits so it is probably the easiest way to get into Bitcoins within minutes. Following are some of the FX traders with Bitcoin CFD.
———————————————————————————————-
Plus500 : Plus500 were the first forex broker to introduce bitcoin trading. Plus500 is UK based company and has been around since 2008. Company has more than 1,000,000 clients worldwide. Their leveraged CFD is based on pricing from leading bitcoin exchange MtGox. With Plus500 you get 4:1 leverage, meaning if you deposit $200 you can trade with $800, and you can also short.
You can join Plus500 here or you can also direct download trading client here.
Note : Plus500 do not accept US customers.  Plus500 is suitable for experienced traders and not beginners.
———————————————————————————————-
Avatrade : Avatrade recently launched their bitcoin (BTC/USD) trading. Avatrade CFD is available for both short and long trades with 5:1 leverage for trading the digital currency. Avatrade market is open for 24 hours a day/5 days a week. company also offers up to $5,000 bonus on your deposit.
You can join Avatrade (Click Here.)
———————————————————————————————-
Warning : if you are a CFD newbie, we strongly encourage you to do your own research before playing with your hard earned money. Please be aware of the risks involved.
Advertisements
---