# 1 Way To Buy Bitcoin With PayPal In 2018
Advertisements
Looking forward to Buy Bitcoin With PayPal? PayPal, world's largest on-line payment process but yet you can't make a Bitcoin purchase with it. Well reason behind this is pretty clear, bitcoin is the cheapest way to transact on-line hence it's a threat to their business. If you take a look at PayPal TOS 7.7, it is clearly written " To qualify to receive Micro-payments for Digital Goods, you must submit an application, be approved by us, and have an Account in good standing. By applying for Micro-payments for Digital Goods, you agree that for Digital Goods transactions you receive up to the amounts in the table below, then if a buyer opens a Dispute, PayPal may reverse the transaction, and remove the funds from your Account without requiring the buyer to escalate the Dispute to a Claim."
Scammer take advantage of this by filing fraudulent charge back with PayPal, where scammer purchase some bitcoins with PayPal, Credit Card and after receiving coins he fraudulently complains to PayPal or their credit card company that they never received the goods. Since PayPal TOS section 3.7 already abandoned virtual currencies, reviewer favour in term of fraud buyer aka scammer. This has caused genuine bitcoin buyers and sellers a lot of frustration and huge losses. This is why every single Bitcoin Trading platform and exchange abandoned to accept PayPal and Credit Card as a deposit.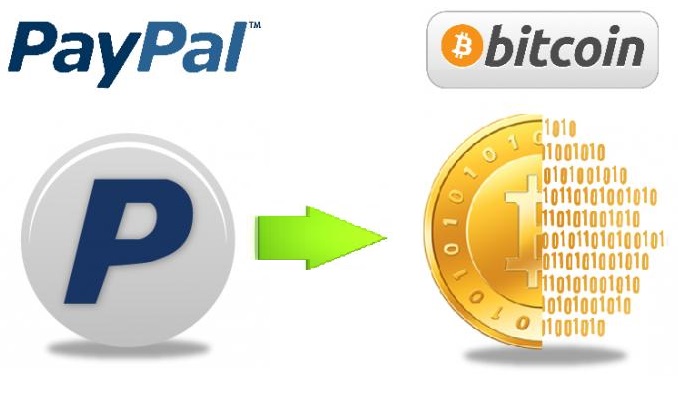 So it's impossible to Buy Bitcoin With PayPal or Credit Card? Technically Yes! But thanks to VirWoX, you can buy now. VirWoX.com, a virtual currency exchange with interests in the currencies of various virtual worlds (such as Second Life and Avination, currency of a very popular on-line game called Second Life.
Due to fraudulent / hacked paypal account risk is always involved, The initial deposit amount has been limited by VirWox in order to avoid the risk of chargeback.
| | | |
| --- | --- | --- |
| PayPal / Credit Card | Deposit Per 24 hours | Deposit Per 30 days |
| Upon Registration |  60 EUR |  180 EUR |
| After 10 Days |  100 EUR |  500 EUR |
| After 60 Days |  200 EUR |  2,000 EUR |
| After 90 Days |  300 EUR |  3,000 EUR |
| By Request Only |  8,000 EUR |  80,000 EUR |
Note : There is no limit on withdrawals, in some cases it may take up to 48 hours maximum for Bitcoin withdrawals.
In short you will buy some Linden Dollar (SLL) with PayPal, which is technically legal and comes under PayPal TOS and later you can exchange those SLL with Bitcoins which is again legal. If you find yourself needing bitcoin quickly, using this method to buy through PayPal is one of the better ways to do it. While it takes a little bit of time, higher commissions yet it's much faster than using Coinbase or a bitcoin exchange such as BitStamp, which both require a wire transfer to deposit funds.
How to Buy Bitcoins With PayPal, Credit Card by Using VirWoX
Step One.  Go to VirWoX (Click Here) and register your account  by clicking "Not Registered Yet?" under the sign-in form. This will bring you to a registration page where you will be prompted to enter your desired user name as well as your email address first name, last name, country, and desired language. There are more optional fields alongside these, but you won't need to worry about those unless you want to interact with VirWoX in a 'virtual world.'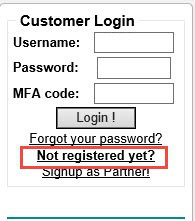 On a successful registration, VirWoX will send a temporary password to your email. We strongly advise you to change the initial / system generated password by going 'Change Settings' option under 'My Account' category, as soon as your accounts is confirmed.Once you change your password, login back to your account and ignore the message saying "your avatar connection has not been validated yet", you don't need to verify your avatar.
Step Two. Add some funds to your Virwox account, you can add funds via various ways, including Paypal, Credit Card, UKASH, Paysafe Card, Money Bookers, Sofort banking or Neteller.

Just go into the "deposit" tab on the left side of the screen. Scroll down to the PayPal payment option, select your desired currency, and click the "Checkout with PayPal" button.
Step Three. Now convert your USD / EUR in to SLL (Linden $). Those who don't know, Linden $ (SLL) is currency of The virtual world, Second Life.
Why Linden Dollar ? Because direct trading from $ / € to Bitcoin is not possible. That's why you have to take alternative route via Second – Life Linden$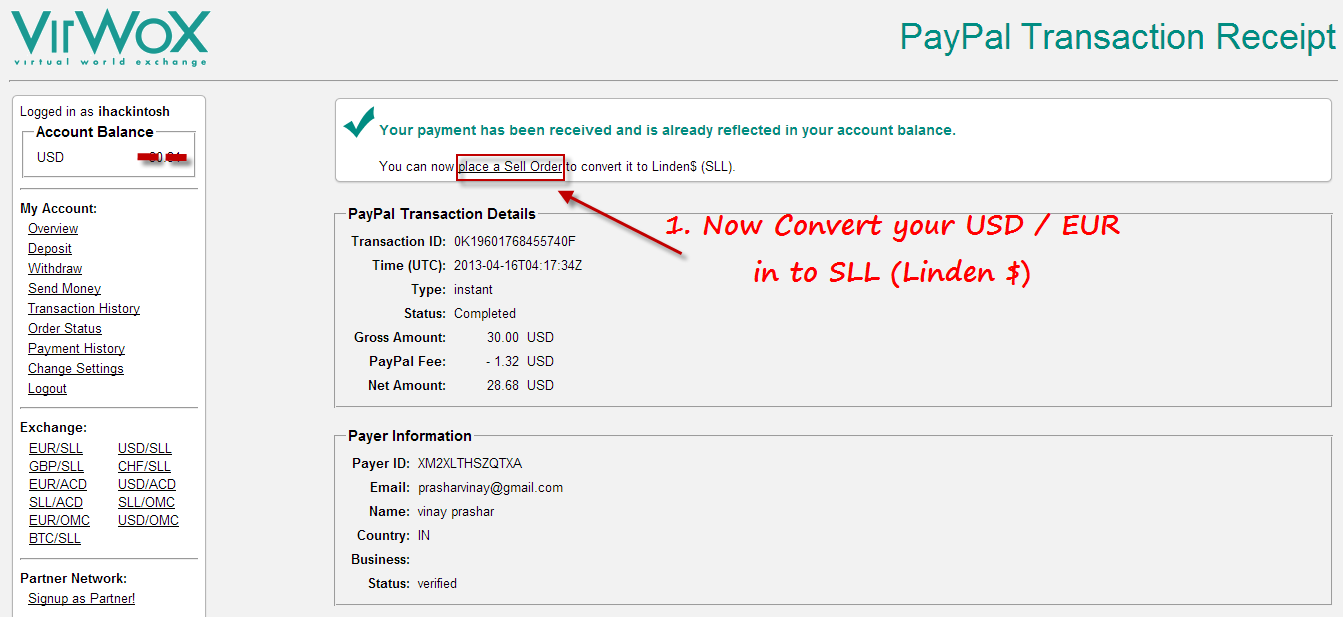 There are two options to trade SLL for Bitcoins :
1. You want your order executed immediately: In this case, you would simply accept the current best available rate, and place a "market order".
2. You are willing to wait for an even better rate: In this case, you place a "limit order" and specify your desired rate. Of course, your order will only get executed if and when somebody is willing to accept your offer.
Step Four. Now go to BTC/SLL exchange and buy bitcoins of your desired amount.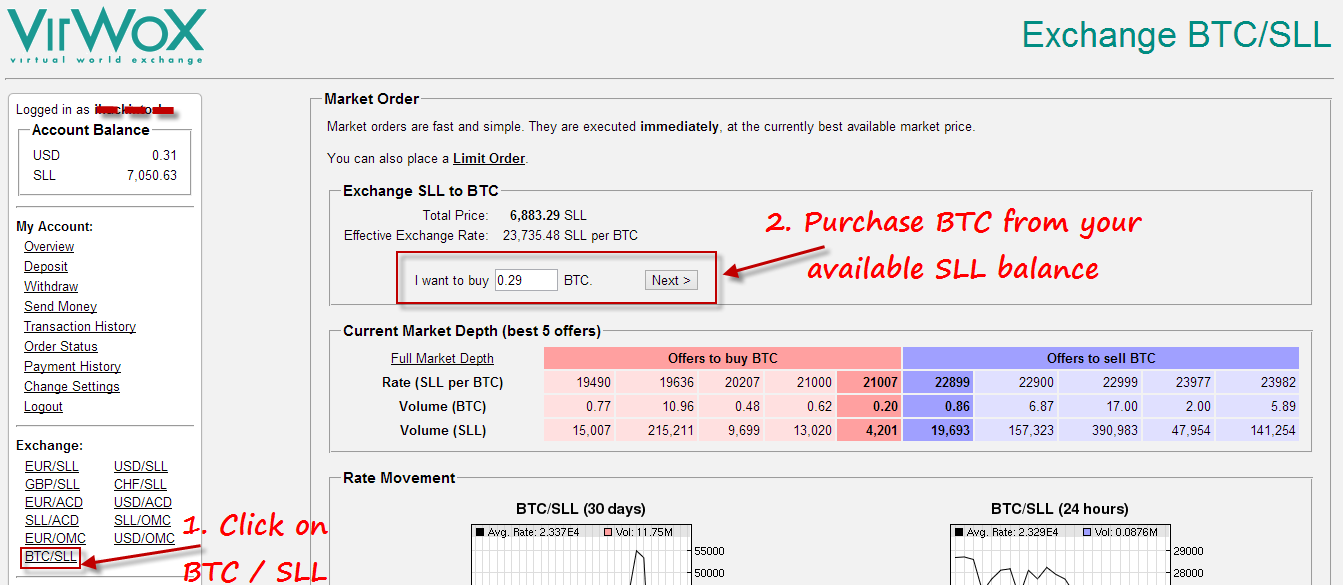 Step Five. Congratulations, now you own bitcoins in your Virwox wallet, you can transfer these bitcoins to your personal wallet. Simply go to Withdraw section, first option is bitcoin withdrawal. Now add bitcoin payee address and hit the withdrawal button.

Step Six. That's it. If you like the post or still have any doubt check the following video or post it in comments section right after the break.
---