World's Largest Gift / Game Card Shop Now Accepts Bitcoin
PCGameSupply (Link Here), world's largest Gift Card / Game Card providers now accepts Bitcoin as payment. They deals in PC Games, Xbox Live, Playstation Network, iTunes Gift Cards, Amazon Gif Cards, Ultimate Game Card, WoW, EVE, Runescape, Zynga, Nexon and more. Check out the official announcement right after the break.
Now Available! We are now accepting BitCoin payment for purchases on PCGameSupply.com. Simply choose the Bitcoin-BitPay option during checkout. These transactions are completed without Telephone Verification!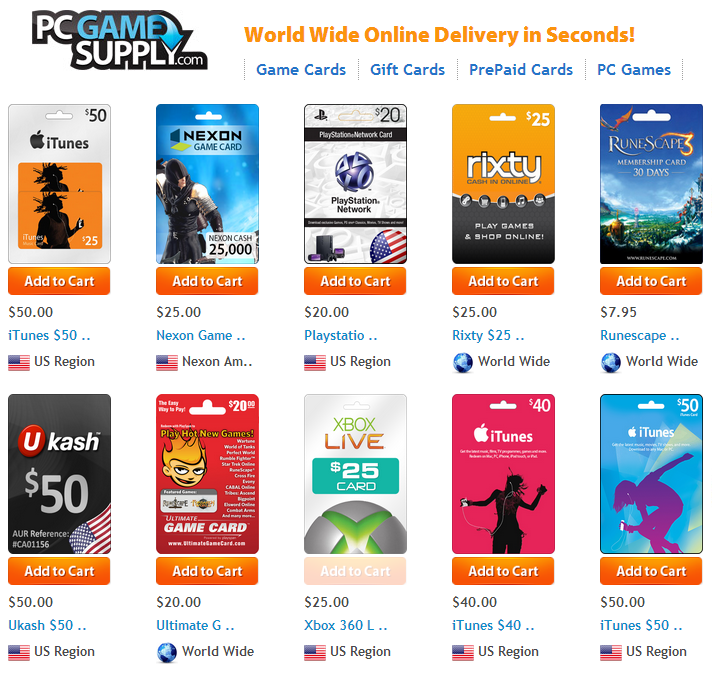 Buying cards / codes with PCGamesupply is very easy. All your digital or voucher code will be receive in 30 minutes or less (I receive my 50$ Amazon code in 15 minutes). Of course they do charge a little premium, but their activation fee is acceptable too.
In short, we are very pleased with the level of professionalism and the speed of the service. It was secure and pragmatic. In one word: excellent.
Advertisements
---