How To Generate Bitcoin Vanity Address
Bitcoin Vanity address, a custom bitcoin address that you can use to identify yourself. No doubt Bitcoin protocol is pretty simple and smart, but the Bitcoin address is neither simple nor smart and difficult to remember.
A bitcoin address is an identifier of 27-34 alphanumeric, usually beginning with 1, for i.e 1uEbMgunupShBVTewXjtqbBv5MndwfXhb. A vanity address however looks more identifiable. For example if you want an unique bitcoin address starting with the prefix of your name / company name, for example, 1BTCPedia78gS5TziSgsmjHMNMHytsUqmrshCp. Cool, isn't it ?
This mini guide show you how to create a user friendly,human readable and custom Bitcoin address. We'll use BitVanity, an Open Source, dead-simple Vanity Address generator for Mac (Windows and Linux versions coming soon).
Step 1 : Download VanityGen for Mac OS (download here) (Source Code)
Step 2 : Launch the application and type your desired string.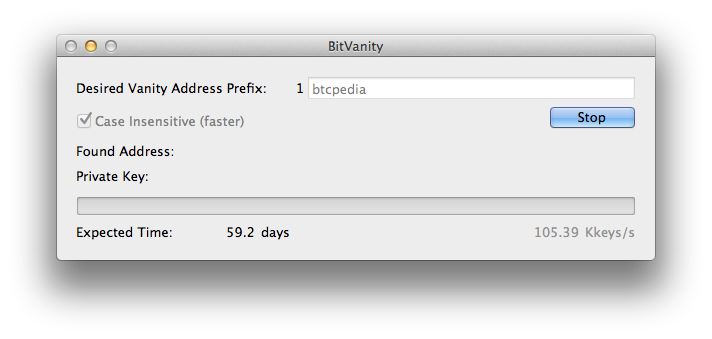 Note : Longer the string, longer it takes to finish and Yes! you need Mh/s power to complete quickly the address generation.
Step 3 : This application attempts to find a Bitcoin address that contains a vanity word you specify. Your vanity word can be case insensitive or case sensitive (harder to find).
Step 4 : Once you successfully generate your key, you can import to your wallet. Several Bitcoin wallets provide the option of importing the generated private key corresponding to the vanity address.
Bitcoin-Qt, for example, offers this functionality in the console. Select " Help >> Debug window " from the menu bar and then click on " Console ". Next, use the command to import the private key. E.g.:
importprivkey 1BTCPedia78gS5TziSgsmjHMNMHytsUqmrshCp 

"Vanity Address"

 false
The false parameter at the end makes importing the private key much much faster.
Advertisements
---