Butterfly Labs Announces Monarch, 28nm 600GH/s PCI Mining Blade
Butterfly Labs just announced The Monarch, 28 nm Asic based Bitcoin mining PCI card priced at $4680 for 600 GH/s speed. BFL Monarch claims to be most power-efficient bitcoin miner @ 350W for 600 GH/s mining power, that means $ 7.80 /GH and 0.6w per GH.
BFL don't accept paypal / credit card anymore, you can still pre-order using Bitcoin, Dwolla or Bank Transfer only. Previous customers can also transfer their pending 65nm product order into new 28 nm product order queue.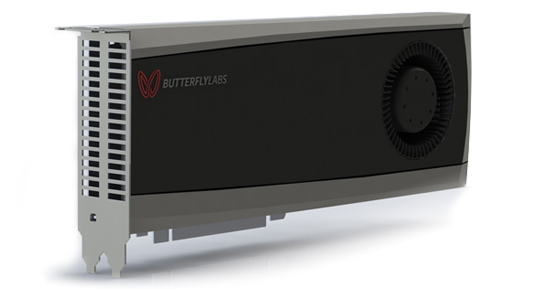 Company claims for  November/December delivery but their previous record in shipping products on time time is not that great. For example check this comment by a redditor.
From past experience to anyone new here considering purchasing from this company, if they are promising November/December 2013 delivery, you can expect to receive it in January or February of 2015. No, I am not joking.

It took BFL 14 months from when they started taking pre-orders for their ASIC line to when they finally started shipping them in any kind of volume to real customers.
We suggest you to hold your money until company shows a video of working demo unit. We'll keep you informed with the latest updates of The Monarch and all other Bitcoin Asic developments, keep following us on Twitter and Facebook.
Advertisements
---