Ten Must Have Bitcoin Related iPhone Apps
Today, there are approximately 50+ Bitcoin related apps available for the iPhone and iPad. You can use these applications to monitor Bitcoin price, manage your online Bitcoin account or stay updated with Bitcoin related news. So in the event that you aren't sure what to download, just verify you have these 10 applications on your iPhone.
Picking ten completely fundamental bitcoin related iPhone applications isn't straightforward, particularly recognizing there are sets of magnificent applications, and many exceptionally exceptional ones. From Bitcoin news to Tickers, to Miners for your iPhone, we have them all - and links to download them directly from the App Store.
1 - Coin Ticker (Free) : Download Here
Coin ticker is my most favorite iPhone app to check Bitcoin and other Crypto Currencies prices on the go. Exchange rates are updated automatically every minutes. You can also use this app to manage your portfolio of all the cryptocoins.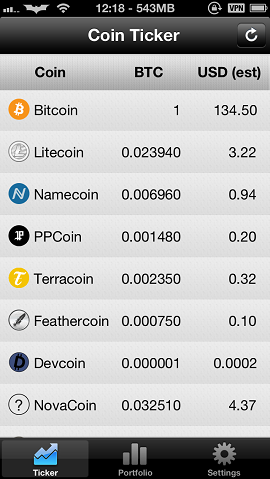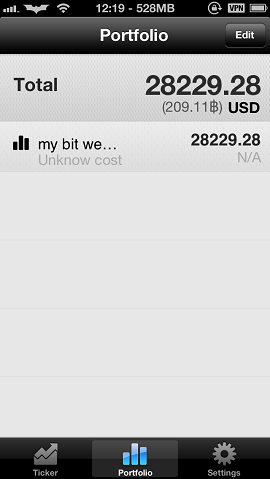 Coin Ticker supports Bitcoin (BTC), Ripple (XRP), Litecoin (LTC), Namecoin (NMC), PPCoin (PPC), Terracoin (TRC), Feathercoin (FTC), Devcoin (DVC),  NovaCoin (NVC), Freicoin (FRC), Ixcoin (IXC), CHNCoin (CNC), BBQcoin (BQC), BitBar (BTB) and YaCoin (YAC) prices from Mt.Gox, Bitstamp, BTC-E, Vircurex, Bter and Ripple exchange.
2 - Bitcoin Ticker (Free) : Download Here
This app displays and monitors the current Bitcoin (BTC) exhange rates. Alerts are sent as push notifications directly to your phone. Bitcoin Ticker supports Mt. Gox, VirtEx, BtcE, Bitstamp, Btc24, Bitcurex and BTC China exchange.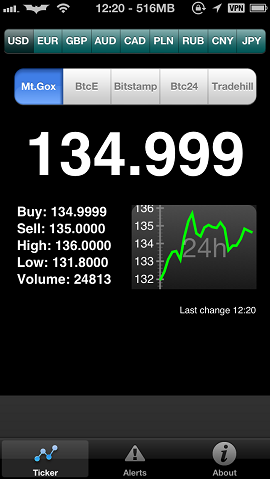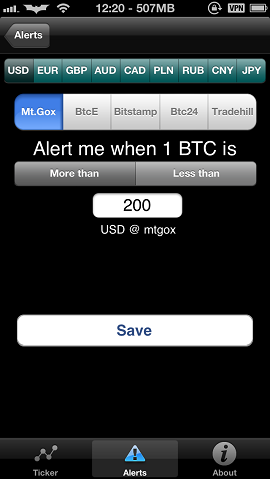 As far as I know this is the only ticker that can notify you when the exchange rate reaches a certain value. So you can setup alerts i.e. Bitcoin price is more than or less than your predefined value.
3 – BTC Charts (Free) : Download Here
BTC Charts is a FREE application that let users check the latest price data and volume chart from Mt.Gox and Bitcoin Charts.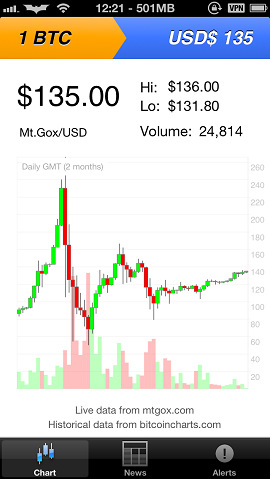 You can also check latest news regarding Bitcoin in a dedicated section.
4 – Coinbits (Free) : Download Here
Coinbits is yet another free app that can provide real time Bitcoin prices  from various exchanges. With in Coinbits app, you can bookmark your favorite markets and can also get detailed information on each market.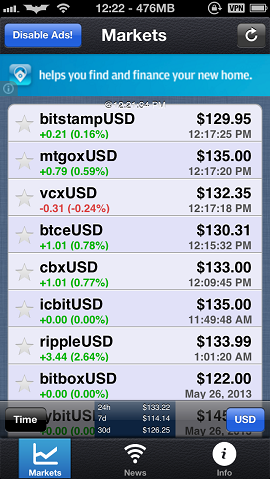 Coinbits also offers a dedicated section for latest news regarding Bitcoin.
5 – Mobile Miner (Free) : Download Here
Mobile Miner is one and only kind of application which turn your iPhone in to a mining machine. We tested this app on iPhone 5 and managed to generate 0.75 khash/sec. This app doesn't run in background, and you'd be generally encouraged to leave your unit connected to power supply  to avoid battery drainage.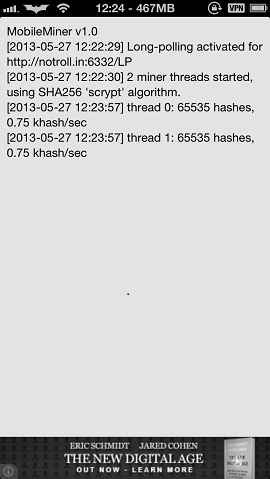 At current difficulty level you can earn a Satoshi in months so don't take this app seriously and download just for fun.
6 – Blockchain (Free) : Download Here
Blockchain iPhone app lets you manage your official blockchain account and track your transactions. But due to restrictions from Apple the bitcoin wallet functionality is not available in the iPhone version.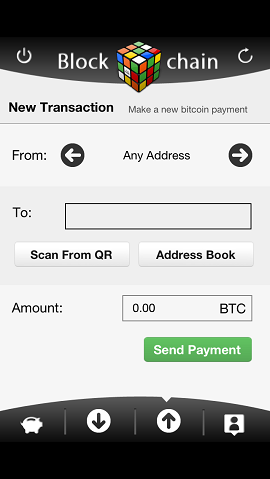 Note : This app is a stripped off version of Android app and most of the functionalities are missing. This app isn't even updated to support iPhone 5 display.
7 – Coinbase (Free) : Download Here
Coinbase iPhone app offer it's users to review balance of securely stored funds on their Coinbase wallet. Just like Blockchain, Coinbase also don't offer bitcoin wallet functionality due to restrictions from Apple.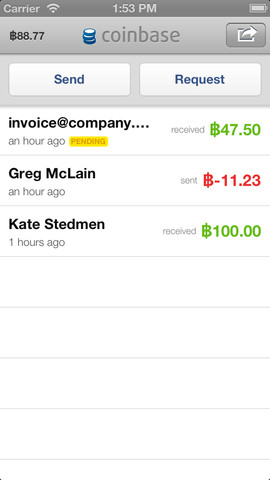 Coinbase is also considered as PayPal of Bitcoin. So if you have a Coinbase account, this app is must download for you.
8 – Scanbook (Free) : Download Here
Scanbook is a simple but very useful utility. With this app you can scan the QR code or copy/paste any bitcoin address to view balance information and the number unconfirmed transactions.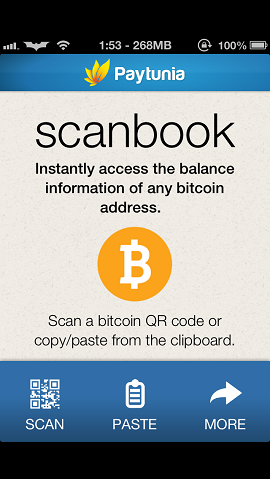 9 – BTCStatus Slush's Pool (Free) : Download Here
BTCStats gives you real-time mining statistics of your Slush's Pool (mining.bitcoin.cz) account.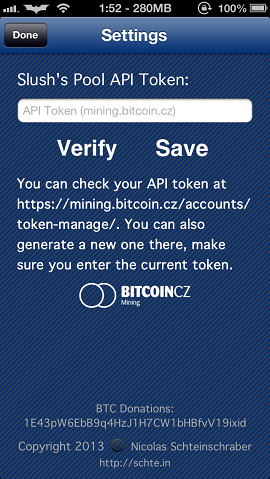 Generate your API key from https://mining.bitcoin.cz/accounts/token-manage/ and enter in the app. That's it. Now you can track your mining progress on the go.
10 – BTCGuild View (Free) : Download Here
Just like abovementioned app, BTCGuild can track your mining status from the most popular bitcoin mining pool aka BTCGuild.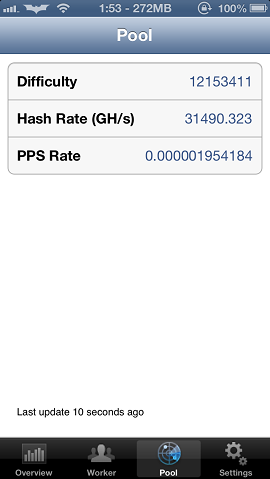 Just enter your btcguild.com API key. It's safe, as the key gives the app read access only. this is a lite (free) version with some limitations like you can view one worker only.
I hope you may already have some or all of these apps. If you know any other good application, share with us in comments section below.
Advertisements
---