How To Mine Litecoin (LTC) With Your PC
Advertisements
Litecoin mining, is very similar to Bitcoin mining. All you need is a CPU / GPU miner tool and subscription to a mining pool. In this article we'll show you the easiest, fastest and best method to mine Litecoin on your own. Let's start with a brief introduction with Litecoin.
Litecoin, the most successful Bitcoin alternative, now has a total volume equivalent to about 38 million U.S. dollars. Litecoin is essentially based on the same software as the original Bitcoin system, they only make modifications to overcome issues with Bitcoin. Litecoin has the primary aim to be faster than Bitcoin. Litecoin uses a different hash algorithm for the creation of money and the confirmation of transactions. With Bitcoin transactions are signed every ten minutes on average, only then can one be sure payee that he has indeed received the money. Litecoin reduces this period down to about 2.5 minutes, thus making 4 times faster transactions.
Since Litecoin is a digital currency, you need to install a "Litecoin Wallet" on your PC. You can download your wallet client (Click Here) for Windows / Mac / Linux.
Note : The client must then synchronize all previous transactions, which may take a few hours or first.
Now back to Mining stuff, in early days CPU Mining was the main source to mine bitcoin / litecoins but the rise of GPU mining made CPU mining financially unwise. Nowadays most mining software dropped CPU Mining support. Next big thing after CPU is GPU a.k.a. your graphics card. GPU Mining is drastically faster and more efficient than CPU mining.
Following are the instructions to CPU / GPU mining of  Litecoin (LTC) with your PC.
Requirements : A PC / Laptop with a decent graphics card / power supply / cooling system.
Step One : Download a miner software that supports GPU mining. We recommend you GUIMiner Scrypt, offers a graphical user interface and is very easy to use. GUIMiner scrypt supports AMD 5750 to AMD 7970 graphics card. In this tutorial we'll use GUIMiner Scrypt.
Step Two : Solo mining is not really possible in today's Difficulty, so you should join a pool (list of mining pools here). We recommend you to join Coinotron. Next you need to "My Account" to create a new worker: Register your workers and note down your credentials.

Step Three : Run GUIMiner, and configure the settings as given below.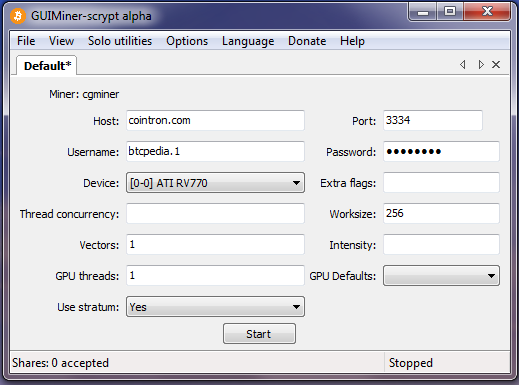 Host : coinotron.com
Port : 3334
Username : (your worker name )
Password : (your password for worker)
Device : Select your GPU
Extra Flag : You can leave blank
Work size : 256
Vectors : 1
threats : 1
Step Four : That's it you are now mining litecoins, make sure to add your litecoin address and pay-out threshold amount in your pool account.
Also Check : How To Buy Bitcoins With PayPal, Credit Card.
---